Mobile Paintless Dent Removal – We Come to You!
Accident Repair Paintless Dent Removal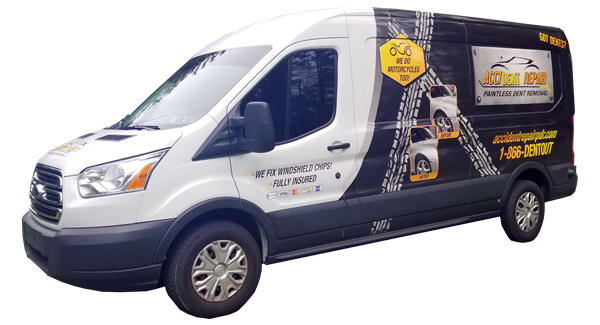 Based in Limerick PA, Accident Repair Paintless Dent Removal is a fully mobile paintless dent repair company that comes to you. We can fix your vehicle at your home or work in as little as 30 minutes. We proudly serve the Philadelphia area, New Jersey, and Delaware.
Accident Repair Paintless Dent Removal specializes in larger dents that do not have paint damage but can repair dents of any size as well as dents and creases from shopping cart damage and hail damage. In addition to paintless dent repair, we also offer windshield chip repair and will soon offer alloy rim repair in Philadelphia and its suburbs, such as Collegeville, Royersford, Limerick, King of Prussia, and more.
Join our email club for special offers, latest news, and service info.
Join today, and get a special offer!
DENT AND DETAIL PACKAGES ARE NOW AVAILABLE
Accident Repair is fully licensed and insured for our car detailing services in Limerick, PA, and surrounding areas. We provide many services related to the protection, restoration, and continued care of your car, truck, or SUV, inside and out.
Our Auto Detailing Services include:
– Car Detailing Interior and Exterior (cars, trucks, and suv's)
– Paint Correction Services
– Headlight Restoration
– Pet Hair Removal
– Line Paint Removal
By Appointment Only. Call today to schedule your detailing appointment. 866-336-8688
Our Detail Center is at 245 Fruitville Road Pottstown Pa 19464. We are located in the Barn at the back of the property, not the residential home. No mobile services are available at this time for our car detailing.
DENT AND DETAIL PACKAGES ARE NOW AVAILABLE
Frequently Asked Questions
"Thank you for taking out the dent in my door & fender of my 1957 Thunderbird. I would get annoyed every time I would look at those two dents. Now I no longer have to look at them. I was also pleased that you answered my call & came out very close to the time…
Accident Repair PDR did an amazing job on my truck! Can't even tell there was ever a dent! Would highly recommend to anyone!
I was at the WaWa gas station in Blue Bell filling up when I noticed this van sporting AcciDent Repair. I hesitated but asked for a card. Chris came over to my car and I showed him my areas that needed attention. The biggest problem was a extra large dent over my passenger wheel well.…
Chris, Just a note to thank you for the great job of repairing my Capri. I've had my doubts about your job and the type of auto body repairs, but you've made me a believer.